24/7 Car Lockout Services
Get Back Into Your Vehicle Quickly And Safely With Our Car Lockout Experts
Picture this: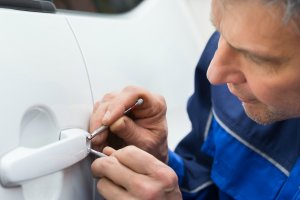 You just arrived at Baltimore-Washington International Airport after a much-deserved vacation to the Bahamas. It's after-hours and you've just walked through a deserted parking lot to your car, only to realize you can't find your keys.
What do you do?
A brief call to Right On Time Locksmith and one of our 24-hour locksmiths will be at your location in no time to provide the fastest car lockout services imaginable. Based in Rockville, Maryland, our company provides fast, effective car lockout services in DC and Maryland. We also assist with residential, commercial, and emergency locksmith needs.
Why Choose Us?
You can rely on our automotive locksmith experts to respond quickly to your call. It doesn't matter when or where in the local area, we're proud to provide emergency locksmith services 24 hours a day, seven days a week. When you lock yourself out at night, on the weekend, or during a holiday, trust that our mobile units will be there. We also service any make and model, including foreign and domestic vehicles.
Our technicians are professional. Each is licensed, bonded, and insured against damage to your vehicle. However, that is extremely unlikely as each technician arrives with all the necessary high-tech equipment and tools to efficiently and safely unlock your car. And don't worry about hidden fees or surprise service charges. We are committed to honesty and upfront pricing. Feel free to ask our friendly staff any questions you like over the phone or in-person when the local locksmith arrives.
Benefits Of Professional Car Lockout Services
You may be tempted to try to unlock your car using a makeshift tool.
Don't do it!
The hanger may not be able to reach the pin inside your door lock. It could also get stuck and cause damage to your vehicle. This is the same for using rulers, metal rods, or even just breaking the glass to get into a car. Ultimately, it costs more to pay for repairs than it would have cost for our services.
Pricing And Special Offers
Know what it will cost you before our automotive locksmith comes out to your location with our upfront pricing. Customer service representatives can give you an accurate price estimate on car lockout services in Maryland and DC based on the information you provide. We may also be able to give you a discount or apply any available special offers to your total. For instance, we offer a 15% discount on services to victims of a crime, military members, and to senior citizens.
You'll also enjoy a 12-month warranty on newly installed locks. If you have permanently lost your keys, and need a new lock and key set, our technician will be happy to help.
What To Do When Locked Out Of Your Car
When you first realize you're locked out, you may want to consider a few of these dos and don'ts before requesting professional locksmith services.
Check all the doors of the vehicle. You may have left a door unlocked.
Retrace your steps. Try to remember everywhere you've been since you last used your keys.
Call a friend or taxi. If you have an extra set of keys at home it may be cheaper to pay for a taxi ride.
Don't try to unlock it yourself. Hangers and rulers can potentially cause a lot of damage.
Go someplace safe. This should be a public, well-lit space with other people.
Call the police if you feel unsafe or are in danger.