We Install And Repair Magnetic Locks!
In Maryland and the DC Metro areas, you can obtain fast commercial locksmith assistance from Right On Time Locksmith. And that includes expert services for magnetic door locks. We dispatch mobile locksmith units across a wide service area. Our fully licensed, bonded and insured technicians respond quickly to customer requests.
Do you require assistance fixing magnetic door locks? We routinely repair these systems for customers. We'll also troubleshoot malfunctioning doors and install new locks. Call us whenever you require the skills of an honest local locksmith!
A Complete Commercial Locksmith Service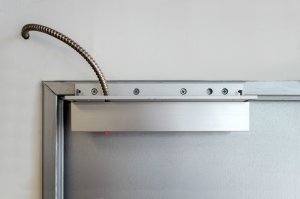 Customers choose us for many reasons. Some of the advantages we offer include:
A complete 24-hour locksmith service
Commercial, residential and automotive locksmith skills
Specialized tools and supplies
Fast response times
12-month warranty on new locks
Attractive discounts for seniors, crime victims and military personnel
Competitive upfront pricing
Our company serves customers across Maryland and the District of Columbia. You can trust us to complete a wide spectrum of emergency locksmithing projects swiftly and capably, from installing keyless entry systems and panic bars to extracting broken keys from auto ignitions.
High-Quality Magnetic Locks
The magnetic lock systems did not gain widespread commercial use in buildings in the United States until the 1970s and 1980s. Today, many businesses and institutions rely upon these locks. The mechanisms depend upon the power of electromagnetism to keep doors securely opened or closed.
Typically, a magnetic door lock depends upon an armature plate interfacing with an electromagnetic lock. Fail-safe systems will release the lock automatically when power shuts off; fail-secure magnetic lock systems, by contrast, may remain locked in the absence of electricity, due to the presence of an additional conventional lock cylinder.
Today, companies as diverse as industrial manufacturers and hotels depend upon magnetic door locks in their facilities. These types of locks often form components within sophisticated commercial security or access control systems. However, not every locksmith firm possesses the training required to resolve magnetic door lock problems. When a concern arises about a magnetic door lock in one of your buildings, obtain fast, capable repair services by contacting us. We'll send a team of expert technicians to your location to diagnose any problems and perform repairs
Our Magnetic Door Lock Services
We offer a variety of useful magnetic lock services. For example, you can request our assistance with:
Contact Us
Request our locksmith services whenever you require high-quality assistance in Maryland and DC. We possess the capability to perform complex projects, including magnetic door locks installation and repair services.