Proper Door Installation Makes All The Difference!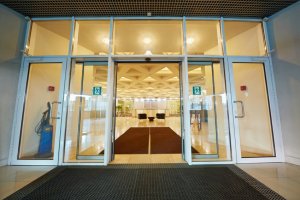 Automatic doors are an important part of any retail business. They offer all of your customers an easy and convenient way to access your establishment. Whether your customer is pushing a cart, chasing after little kids, or using a wheelchair, walker or cane to enter your establishment, with a properly functioning automatic door system you will be able to easily accommodate any customer's needs.
Of course, it is the exact opposite when your commercial doors are not functioning properly. When your doors are malfunctioning, it creates a major problem not only for your customers who are trying to enter and leave your facility but also for your staff who have to manage the entrance and maintain a safe and productive environment. When your doors are failing to function properly it is important to find a reliable door repair company that can provide you with the maintenance and repair services necessary to ensure that your business is accessible to your customers and safe for everyone.
Automatic Door Services
We are Right on Time Locksmith and we offer a variety of services to businesses of all sizes. There are many kinds of commercial doors on the market today, including automatic doors and emergency doors, which means that proper installation, repair and maintenance services are necessary to ensure that your business is accessible to anyone who would like to visit.
Automatic Door Installation
When you contact us to install your new doors, you can rest assured that everything will be done correctly so you can avoid costly repairs down the line. We make sure that everything is installed correctly and functioning properly before leaving the work site. By choosing your Right on Time Locksmith you can ensure that your automatic doors will be installed by experienced professionals who are licensed, fully insured and bonded.
Automatic Door Repair
You never know when your high-tech doors will require attention. Just like any other mechanical product, these doors have moving and mechanical parts that will ultimately require replacement and repair at some point. When looking for the best door services company in Maryland and D.C. it is important to think about all of the possibilities. For instance, your doors could stop functioning during a peak time on the weekend or evening, or your doors could stop working in the middle of bad weather during the holiday season. Whatever your particular problem may be, it is important to look for an automatic door repair and services company that will come out day or night and even on weekends to ensure that everything is functioning properly and working safely.
Luckily for you:
We are available 24 hours a day, 7 days a week to handle any kind of emergency door and lock services you may need.
Emergency Doors Services
Businesses also have to have properly functioning emergency exits if they want to provide a safe shopping experience for their customers. Therefore, when you are looking for a door services company, it is important to find one that can also repair and maintain your emergency doors as well. For reasonable pricing and fast response times, contact Right on Time Locksmith right away.
The Right Fit For Your Business
No matter how large or small your business is, it is a good idea to offer the most convenience possible to your customers. But it is also important to find a door services company in Maryland and DC that will not end up costing you too much for their services.
That's where we come in!
We provide reasonable upfront pricing and a 15% discount for military, senior citizens and crime victims. For the best commercial door installation, repair and maintenance services available in the greater Maryland and Washington DC Metro area, just contact us!