Call Us For To-Quality Installation And Repair Services For All Interior Doors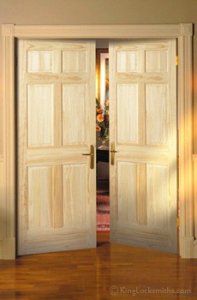 Have you noticed the beauty of attractive interior doors? These practical real estate fixtures enhance residential and commercial properties. They also frequently offer greater security and privacy.
When you need fast, responsive interior door services, call Right On Time Locksmith. We provide a full spectrum of door services in Maryland and DC.
Who Are We?
We have developed a sterling reputation as an experienced lock, safe, vault and door company. We supply teams of mobile technicians to assist customers with a variety of routine (and emergency) lock and security related concerns. We perform automotive, commercial and residential locksmithing services as well.
Let us help you select interior doors reflecting your unique personal style and security objectives. Our talented technicians can complete the entire installation process, and also help maintain doors in good condition. For instance, we'll help integrate new doors within existing security or access control systems.
Our Team Of Door Experts
Customers rely on our team of door installation and repair experts for many reasons. Just consider some of the advantages we offer:
The skills of well-trained door technicians and locksmiths
Availability on a 24/7 basis
Fast response times in emergency situations
A 12-month warranty on new locks
Licensed, bonded and insured personnel
Fair and upfront pricing on all services
Generous discounts for the military, seniors and crime victims
Choose High-Quality Interior Doors
Whether you perform new construction, or you simply need to replace or repair one or more doors in a home or business, count on the skilled team at Right On Time Locksmith! We'll help you select secure, beautiful doors to enhance your property.
We possess extensive experience working on a wide variety of different type of interior residential and commercial doors. Our comprehensive services please customers:
We install, maintain and repair doors throughout the local area
Our technicians possess the skills required to work with wood, metal, glass, fiberglass doors and more
Ask us to help you evaluate your interior door security
We perform skilled interior door installation and fitting services. We install hardware, locks, keypads, panic bars and other door security and safety accessories too. Our technicians routinely work on these types of doors:
Single Doors
Double Doors
Glass Doors
Dutch Doors
French Doors
Steel Doors
Shower Doors
Pantry Doors
Bi-Fold Doors
Pet Doors, and More!
Our technicians repair malfunctioning or damaged commercial and residential doors. We'll arrive at your location with the specialized tools and supplies required to correct a wide variety of door and lock problems.
Call us any time for assistance resolving emergencies involving a door. For example, we'll fix broken or jammed locks, including malfunctioning keyless entry systems. Ask us to help resolve accidental lockouts, also!
How To Reach Us
To receive further information or to schedule an appointment with an interior door specialist, simply call Right On Time Locksmith. You won't regret the time you spend selecting fashionable, secure interior doors.
Contact us to request fast emergency door services at any hour of the day or night! Make us your one-stop interior door resource in Washington and the District of Columbia.