Keep Your Business Secure With Our Automatic Door Closers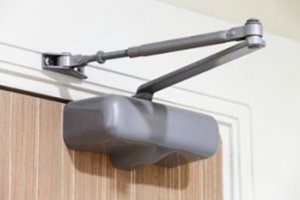 When you need commercial locksmith services in a fast and efficient manner, you can depend on the highly trained experts at Right on Time Locksmith. We specialize in a variety of service options and offer specials that appeal to businesses in Maryland and DC. Our automatic door closer services are worth considering because we always implement cost-efficient procedures to keep the overall cost low. As licensed, bonded, and insured locksmiths, you can work with us confidently during:
Installation projects
Repair projects
Maintenance routines
During all jobs, our mobile locksmiths carefully consider the work that needs to be done in order to calculate an estimate. You can take advantage of our upfront pricing any time because we have hardworking, 24-hour locksmiths.
The Importance Of Automatic Door Closers
If you'd like to eliminate loud sounds that occur when a door is closed in your office building, our automatic door closer installation service can be quite beneficial. After we install a closer, you won't hear anything when the hinges push the door to the framing because our hardware has a mechanism that controls the speed.
Our installation services can also reduce energy costs in commercial areas. Many businesses waste energy because kids don't completely close a door after they run outdoors. Because our equipment has multiple speed settings, we're able to adjust the hardware so that a door with shut quickly without generating a loud sound.
Automatic Door Closer Options
If you need a standard automatic door closer, a surface mounted option is worth considering. We typically install these units on aluminum doors in commercial areas. This kind of closer is easy to install and is suitable for stores that get average to high volumes of traffic.
An overhead concealed closer is always installed next to the headers and frames. Thanks to the unique design, we're able to efficiently mount this closer over a door that's wide, medium, or narrow.
The most durable option is a floor mounted door closer; this hardware should be considered if you need equipment installed in a location that gets heavy traffic. Because this closer is adjustable, it can be used with a wide or tall door that's insulated.
Troubleshooting Strategies
If you already have an automatic door closer, the hardware may begin to function inefficiently over time. Whenever this happens, you might be able to resolve some problems by implementing one simple procedure.
In many cases, by rubbing oil on the hardware, most mechanical issues that affect how a closer operates can be resolved. Fresh oil can fix a closer that:
Swings a door too fast
Closes a door without resistance
Doesn't operate properly after the screws are adjusted
No matter if you need new equipment, maintenance services, or automatic door closer repairs, you can rely on the procedures that we implement throughout every phase of the service process.
Our emergency locksmiths are available with mobile units in a variety of neighborhoods and communities and proudly serve entrepreneurs and executives who need locksmith services in Maryland and DC. If you'd like to request our locksmith services, you can contact us anytime.