Access Control System Services
Get Expert Installations And Repairs For A Variety Of Access Control Systems
Would your home or business benefit from the installation of a new access control system?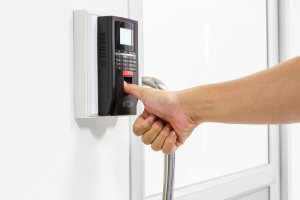 Today, technology permits property owners to restrict access to various parts of a facility only to authorized personnel. An access control system may function in close cooperation with a modern security system to help accomplish this goal.
When you need commercial locksmith services to implement an access control system in your facility, call Right On Time Locksmith. We perform work on both complex and simple access control systems for commercial properties, both large and small.
Meet Your Local Locksmith Experts
Our well-trained technicians represent a fully licensed, bonded and insured company. We furnish complete door installation, safe and locksmith services in Maryland and DC. Ask us to provide assistance resolving accidental lockouts, extracting broken keys, repairing vaults or troubleshooting access control system problems.
As an emergency locksmith service, we'll travel to your location to provide capable assistance at any hour of the day or night. You can call us to resolve problems on a 24/7 basis. We provide a full spectrum of services, including skilled access control locksmithing assistance.
Access Control Systems: A New Trend
Access control systems have gained popularity recently in part due to the spread of computer technology. Many businesses have discovered managers can significantly enhance accountability by implementing these systems.
Additionally, homeowners with automated residences can install these high-tech systems to gain better control over certain areas of a residence. Ask us to install one for you if you operate a home-based business in Maryland or the District of Columbia!
Our Access Control System Services
We offer a full spectrum of access control system services. We help customers by implementing, troubleshooting and repairing some of these systems:
Biometric Access Control: Many sophisticated biometric access control systems exist today to help restrict access to specific individuals. These products identify specific physical features such as a thumbprint.
Keyless Entry Access Control: We install and helps maintain a wide array of modern residential and commercial keyless entry systems. Whether you want to use high-tech locks to control access to an apartment building, or you operate a self-storage unit, ask us to help you deploy a keyless entry system to enhance security.
Key Fob Access Control: You can rely on a key fob access control system to restrict access to vehicles or parts of a facility only to authorized personnel in control of a designated key fob.
Pin code Entry Access Control: Often used in keyless entry systems, a pin code entry access control system allows a customer to issue unique designated access codes to regular employees or visitors entering specific areas.
Advantages We Offer Customers
Why should you call us to provide automotive, residential or commercial locksmith services? Some advantages we offer include:
Qualified locksmith, safe and door services
Timely 24/7 availability
Fast response times
Attractive discounts for seniors, crime victims and military personnel
A solid work ethic
A trustworthy local locksmith service
Friendly, highly skilled technicians
An ironclad full year warranty on new locks
Reasonable up front pricing
Contact Us
Request locksmith services at times that work for your business. Obtain capable access control system installation and repairs. We offer 24-hour locksmith services throughout Maryland and the District of Columbia. Call us whenever you need an honest full-service mobile locksmith!