We Solve Broken Key Problems Quickly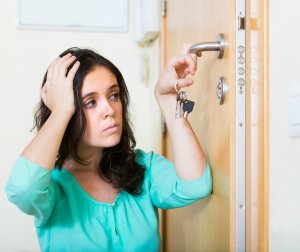 If you're like most people, you are probably rushing out of your house every morning to get the kids to school, get to work on time and so on.
Warning!!
When you are in a hurry, you may find yourself requiring broken key removal services.
On the other hand, sometimes keys and locks can deteriorate over time and this can also lead to keys that get stuck or break inside a lock.
No matter what the reason is, you can always count on our residential locksmith experts to handle broken key removal services quickly and efficiently.
Why You Need A Professional Locksmith For Broken Key Extractions
It is important to call a professional when you've broken a key because we will ensure that the key is removed completely so you won't have problems later. A broken key is a big problem, even when it seems minor. Our reliable emergency locksmith services mean that we can quickly remove your broken key, repair any damages to your lock and get you a new key made right away. And, our services are backed by our licensed and insured pros that have years of experience in the industry.
What Makes Our Locksmith Services So Special?
We are Right on Time Locksmith and there are so many reasons why we stand apart from the crowd. We go above and beyond the call of duty to ensure your satisfaction, providing you with professional and friendly staff.
Additional factors that make us a cut above the rest:
We are fully licensed, bonded and insured
We are available 24-hours a day, even on weekends and holidays
Speedy response times
Special rates available for military, seniors and crime victims
Guaranteed fair and upfront pricing
Use of the latest tools and equipment for all lock types
Warranties that accompany all new locks that we install
What Can Cause A Key To Break
No one ever expects their keys to break, but it happens often. And there many be many factors involved.
Top 4 Causes Of Broken Keys:
Old keys that are worn out, rusty, delicate due to corrosion
Keys that are damaged from cold weather
Using the key for purposes other than intended (Most of us are guilty of doing this, at least once or twice!)
Attempting to insert the wrong key into the slot
This list includes only a handful of the many reasons why you may find yourself with a broken key. In any of these situations, our caring experts are just one phone call away, ready to help you out of any difficult broken key situation.