Rely On Us 24/7 To Install Deadbolt Locks!
Do you require a dependable 24-hour locksmith to install or repair deadbolt locks?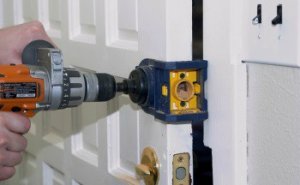 Well, you're in luck! We are Right on Time Locksmith and we offer a full spectrum of lock services in Maryland and DC. You can ask us to complete any projects requiring a skilled locksmith for your home or place of business. And that includes expert services for all types of deadbolt locks.
Our Capabilities
Customers count on Right On Time Locksmith to solve a variety of challenging lock-related security problems. For example, consider contacting us whenever you seek:
Assistance installing a new keyless entry system correctly
Help resolving an accidental lockout emergency
A mobile locksmith to extract a broken key
Qualified lock installation and repair services, and more!
Ask Us To Install Deadbolt Locks Safely
One example of the type of work we frequently perform concerns deadbolt lock installations. A specialized "deadbolt" lock can significantly enhance security. Inventors have developed several varieties of these locks. All of them makes a door far more resistant to unauthorized entry. For this reason, deadbolts have become standard security features in many hotel rooms.
Safety Matters
Most customers benefit from professional assistance in selecting and installing a suitable deadbolt lock. While these locks do strengthen security, they also hold some potential dangers in the absence of careful advanced planning.
In the past, hotels frequently used double cylinder deadbolt locks which require the occupant of a room to turn the correct key in the deadbolt in order to unlock the door from the inside. This situation can cause problems during emergencies, such as fires, since patrons may encounter difficulty locating the correct key rapidly.
Nowadays:
Deadbolts with a single cylinder which open manually from the inside with the assistance of a twist mechanism do not suffer from this potential disadvantage. We can assist your business in upgrading to suitable, safer deadbolt mechanisms.
Why Customers Choose Us
We'll send a well-trained emergency locksmith team to your location quickly! Our customers choose us because we offer many advantages.
Our comprehensive, well-qualified locksmithing services are backed by the skills of a fully licensed, insured and bonded company. Our technicians offer fast and courteous assistance and are available on a 24/7 basis.
We also guarantee fair, upfront pricing at competitive rates and a 12-month warranty on new locks installations. And if that wasn't enough, we also provide 15% discounts on services for seniors, military and crime victims.
So what are you waiting for?
We hope you'll decide to select Right On Time Locksmith as your preferred local locksmith. Call us whenever you seek skilled locksmithing services in Maryland or the District of Columbia.