CCTV Installation And Repair Services
Protect Your Commercial Property With Expert CCTV Installation And Repair Servies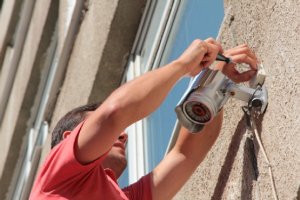 One of the best ways to protect your business 24-hours a day is with CCTV Systems. Also known as Closed Circuit Television Systems.
That said:
When time is vital during vulnerable security situations, you can count on the crew at Right On Time Locksmith. We're fast, prompt, efficient, and reliable throughout all phases of commercial security projects. Along the way, various procedures are always implemented to ensure professional results. No matter what service you select, you'll have peace of mind until the project is complete because we're licensed, bonded, and insured.
If you're trying to boost security without spending a lot of money, our commercial locksmith services may benefit you. To ensure a high level of customer satisfaction, our 24-hour locksmiths provide discounts to people who were affected by a criminal act and reduce prices to senior citizens and military officers. Our mobile units also make the transaction process easier by providing upfront prices before starting each project.
Benefits Of Using CCTV Equipment
A CCTV system can deter criminal acts in typical communities and neighborhoods. We understand that key installation locations can prevent intrusions and theft. This is why our locksmith experts pick ideal mounting spots where a CCTV system can provide the best benefits.
Crime has been known to be lowered significantly after a CCTV system is installed in an area. Typical shoppers also benefit because a strategically placed unit gives them peace of mind.
CCTV Installation Considerations
The process of picking an ideal system that suits your needs while working with us won't be a hassle because we know how to install and configure the latest technologies. During many jobs, we install analog CCTV technology since all of the equipment is easy to wire, use, and maintain. Our crews also mount CCTV equipment with advanced analog technology in commercial buildings. This commercial security option benefits store owners who need a higher resolution display.
Installation Strategies For Closed Circuit Television Systems
Our goal during all installation projects is to help locals boost security in a highly effective and efficient way. To accomplish this task, careful steps must be followed to eliminate any blind spots that are found throughout a building. For example, in order to pick ideal spots for security equipment in big buildings, we must know the layout. In most cases, we'll scout a layout by studying blueprints if they're available. The information that's found on building blueprints helps us place CCTV equipment in key areas based on detection range and distance to avoid blind spots.
Because we provide thorough emergency locksmith services, we always consider the lighting levels before configuring our equipment in narrow spaces. In order to eliminate blind spots in these locations, our local locksmiths may suggest proper lighting options for dimly lit areas.
The crew at Right on Time Locksmith configures and installs CCTV technologies in multiple neighborhoods and communities. We provide all of our CCTV equipment and locksmith services in Maryland and DC. If you need CCTV repair, several CCTV systems installed, or any other mobile locksmith services, contact us to request our 24-hour locksmith solutions.