Protect Valuable Property In Your Home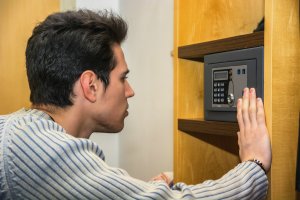 For centuries, safes and vaults have assisted households in better securing valuable personal property. To better protect your family's prized possessions from burglaries, fires, floods and other disasters, you need the skills of the specialists at Right On Time Locksmith.
Our talented mobile locksmiths help customers seeking locksmith and door assistance and safe and vault services. We are your one-stop-shop!
You'll Love Right On Time Locksmith Services
We dispatch mobile teams to support customers across the Maryland and DC Metro areas. We hope you'll appreciate our services and recommend us widely! Your satisfaction remains our top priority.
Some Reasons Customers Choose Us
Satisfied customers choose us to help install, maintain and repair residential safes for many reasons. Benefits we offer in this area include:
Availability on a 24/7 basis (and that includes holidays and weekends too!)
The skills of expert locksmiths and door technicians
Complete automotive, commercial and residential locksmith services in Maryland and DC
Fair, upfront pricing for every single job we do
An ironclad 12-month warranty on new locks that we install in your home or business
Fast response times that you can count on
Licensed, bonded and insured services for your peace of mind
Discounts available for the military, crime victims and seniors
Historic Home Safes In This Region
Safes and vaults have played a historically significant role in numerous stately homes in this region of the United States and they remain important today. For example, most embassies in Washington D.C. contain at least one safe or vault for the protection of important documents.
In this century, high-tech security systems, keyless entry systems and access control systems also often assist owners in safeguarding valuable personal property. We service both traditional mechanical and new "smart" digital safes locking mechanisms.
Our Comprehensive Residential Lock, Safe And Vault Services
Right On Time Locksmith offers a number of important residential lock, safe and vault services. In addition to providing 24-hour locksmith assistance to residents of Maryland and the District of Columbia, we supply helpful tools for protecting family treasures:
Residential Safe Installation: We install a variety of safes and vaults for residential customers. We'll make sure your valuables are protected.
Residential Safe Repair: Has your home safe malfunctioned? Our skilled team of locksmiths help to maintain and repair all types of safes.
Safe Cracking: If you become locked out of your own home safe, ask us for assistance. We'll help restore your property to you.
Wall Safes: Ask us to correctly install and maintain home wall safes. Our technicians can supply adequate support to prevent heavy safes from damaging your real estate.
Flooring Safes: We also install and repair floor safes for residential customers. We'll ensure these units fit snugly into secure locations.
Fire Safes: Ask us to help you select a reliable fire-resistant safe to safeguard important documents or other prized possessions. We offer complete fire safe installation and repair services.
Walk In Safes: Do you require a residential walk in safe? Ask us to perform professional installation, maintenance and repair services. For instance, we'll oversee the installation of safe temperature controls and ventilation systems upon customer request.
Contact Us Soon
Contact Right On Time Locksmith to receive comprehensive lock, door, safe and vault services in Maryland and DC. We respond rapidly to your request for safe and vault assistance.