Get 24-Hour Safe Cracking Services
When it comes to safe cracking services, no one does it better than us! We are Right on Time Locksmith and we are available 24-hours a day for all of your safe and vault needs.
But that's just part of the story.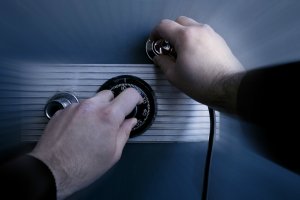 When you are in need of locksmith services in Maryland and DC, you need someone that you can trust and who is reliable to show up when you are most in need. It is important that your provider is a 24-hour locksmith and that trained technicians will show up for you when promised.
If you are in need of safe cracking services, time is of the essence. You need access to what is inside your vault or safe, and we will work to get it done for you as quickly as possible. This service is offered in addition to our full range of automotive, residential, and commercial services, plus door installation and repair.
We are an emergency locksmith located in Rockville, and service the surrounding communities via one of our local mobile units.
Safe Cracking Experts Near You
There is a wide range of reasons that people turn to safe and vaults. From securing collectibles and other valuables to keeping photos and personal documents safe from fire, safes are useful to meet a variety of needs.
From time to time it might become necessary to crack a safe.
Perhaps you have lost the combination, or the key is simply nowhere to be found. You might even find that the locking mechanism has malfunctioned, making access to the safe or vault impossible.
In any event, we can help get you access to your valuables when you need them the most.
In addition to this valuable service, take a brief look at what else you can expect from us:
24/7 Availability is our pledge to you
Our response time is quick and professional, and all technicians are trained and experienced
All pricing you receive from us will be upfront, before the work is done, and transparent in nature
Every lock that we sell and install for you is backed with a full 12-month, no questions asked warranty
For anyone victimized by a crime, military service members, and those who are senior citizens, we offer a full 15% discount on our products
and services
Right on Time Locksmith is fully bonded, insured, and licensed
So you see:
All of this combines to demonstrate the lengths we have gone to earn the trust of our many satisfied clients. Our word is our bond, and we work hard to live up to the highest standards of integrity and honesty in all that we do. We will crack your safe and you will gain the access that you need. You can trust us never to reveal the nature of your safe or where it is located. This is the value of choosing a locksmith that is bonded and insured.
We Can Help You With All Types Of Safes And Vaults
When you need us, we have commercial safe cracking and residential safe cracking service available. Once we have cracked your safe, you might decide that you are in need of a new one altogether.
We have all types of safes and vaults for you to choose from and we can install, repair or crack any of the following types of safes.
Wall Safes: Great for storing small valuables and for keeping the safe out of view while providing for easy access.
Floor Safes: Excellent for storing large items that you do not need to access regularly.
Fire Safes: These are a great choice for storing items of a personal nature, such as photos, that are truly irreplaceable.
Walk-In Safes: Store artwork and other large items in a secure environment
Basically:
Get a safe or vault to secure your belongings and gain extra peace of mind as a result. We can do the entire job for you and remain on your side should you need service or maintenance at any point in the future. Contact us 24/7  to learn more about our safe and vault services in Maryland and DC or to request immediate safe cracking assistance.