State-Of-The-Art Keyless Entry Systems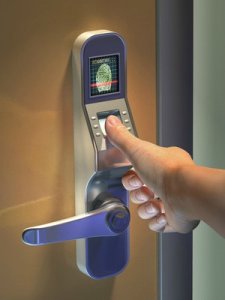 Today a growing number of homeowners and businesses rely on keyless entry locks. Also known as "smart locks", these systems permit someone to unlock a door simply by entering an access code into a keypad or using your own fingerprint to gain entry.
If you prefer to control access to your residence or office remotely, high-tech locks offer many advantages. They won't work correctly without proper installation, however. You can rely upon your Right On Time Locksmith to help install, troubleshoot and maintain these sophisticated keyless entry devices.
Our Service Area
Our lock service experts respond to customer requests for assistance throughout the greater Maryland and DC Metro areas.
As a reliable local locksmith, we offer a full range of services. We respond quickly to requests for our assistance. You can reach us anytime of the day or night. Call us whenever you seek qualified, honest locksmith services in Maryland and DC!
Skills We Offer
We offer many conventional and high-tech locksmithing services. When you require the skills of a 24-hour locksmith, think of Right On Time Locksmith! For instance, you can select us to replace or upgrade locks in your residence. We offer a full range of commercial locksmith services, too.
Ask us to help you fully integrate new keyless locks with commercial security systems, for instance. Our licensed, bonded and insured locksmiths possess the skills required to help resolve problems involving magnetic and digital locks.
Why Customers Choose Us
Just consider some of the reasons why people request our services.
First, we offer comprehensive emergency locksmith service 24-hours a day. And that includes weekends and holidays too! We provide upfront prices and even offer special discounts to seniors, crime victims and members of the armed forces.
Plus, our licensed, insured and bonded technicians have years of experience and our installation services are backed by 12-month warranties on new locks.
Digital Locks: When Accuracy Counts!
Although some commercial buildings have relied upon sophisticated wireless locks for a number of years, digital locks really did not gain widespread public popularity until the advent of personal computers and mobile tech devices. Today many homeowners appreciate the ability to monitor their locks remotely using smartphone technology.
A skilled locksmith can help you integrate a keyless entry system with existing high-tech amenities, such as an access control system. Call our expert team of locksmithing technicians to help you correctly install and maintain your smart locks. We'll help make sure you enjoy the full advantages of owning one of these powerful high-tech systems.
Ask Us To Install A Smart Lock For You
Did you know most keyless entry systems today permit owners to issue unique access codes to every member of the household? This situation can enhance peace of mind.
For example, parents can check remotely from the office to make certain youngsters arrive home on schedule after school!
Ask Right On Time Locksmiths to assist you anytime you require locksmith services. We appreciate your business!