Panic Bars – An Important Safety Device
Have you ever considered the important role of panic bars as safety devices during an emergency?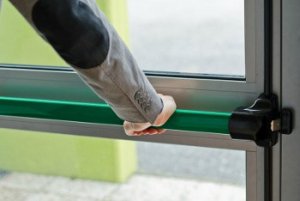 Most people today have noticed these bars positioned on the interior of doors.They enable building occupants to exit quickly. When a real estate owner has obtained the professional installation of high-quality panic bars, no one must wait to locate the correct key or fumble with a mechanism in order to leave the premises.
Panic bars (also sometimes called "push bars" or "crash bars") have existed for many years. Yet these devices continue to save lives today. Ask our team of expert commercial locksmith technicians to install and maintain push bars in your building or residence.
About Right On Time Locksmith
Our company provides skilled mobile locksmith services throughout Maryland and DC areas. We offer a high level of customer service, dispatching teams of trained technicians to address a variety of lock-related security concerns for customers.
You can count on us to perform residential, automotive and commercial locksmith services on short notice. Our emergency lock and key teams respond very quickly to customer requests for assistance. Our firm maintains 24/7 availability for your convenience!
Why Customers Choose Us
We hope you'll designate our company as your preferred local locksmith. Call us at any hour of the day or night.
Our benefits include:
We offer complete 24-hour locksmith services
Our company performs fully licensed, bonded and insured work
You'll appreciate our fair, upfront pricing policies
We employ friendly, courteous technicians
Our firm offers fast response times
We furnish a 12-month warranty on new locks
Ask about our attractive discounts for seniors, members of the military and crime victims!
Our Commitment To Safety
Successful enterprises today care about the safety of their employees and customers. Whether your company operates a cinema, an office complex, a shopping mall, a motel, a hospital or a school, you've likely prepared detailed risk management plans to address a variety of possible emergency situations. We strive to promote public safety through our work, too.
We recognize the importance of keeping push bars in good operating condition. These devices prevent trampling injuries which can occur when groups of people struggle to exit a location rapidly. If you'd like to obtain professional installation or repairs of crash bars in one of your facilities, call us for fast, experienced assistance!
A Full-Service Emergency Locksmith
We offer a comprehensive array of skilled locksmith services in Maryland and DC. For instance, consider calling us to address any of these types of problems:
You experience an accidental office lockout
Your key breaks off in a vehicle ignition
Your firm requires a locksmith's assistance in maintaining a commercial security system
One of your employees notices a problem developing with a magnetic door lock
You desire the correct installation of a new keyless entry system
Our capable, honest locksmiths handle all these emergencies, and more, on a frequent basis. We'll help install push bars for you, or perform any other lock-related assignment!
We Value Your Business!
Right On Time Locksmith provides comprehensive locksmithing services. Call us first whenever you encounter a situation requiring the skills of a well qualified, honest locksmith!