Laser Cut Car Key Services
What Is A Laser Cut Key?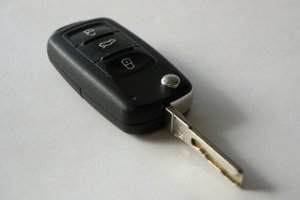 Chances are that your car has a different looking key today than it did twenty years ago. Instead of having the bumps and ridges like older keys from the hardware store, your key now may be flat and smooth along the outer edges. This is a laser cut car key, by which a laser whittles away the metal to create a key that is much harder to duplicate and is much more secure.
As a result, car insurance companies have been encouraging car manufacturers to make laser cut keys standard equipment. What started in Germany in the 1990s has become increasingly universal. Additionally, car dealerships are happy with this trend as well, as it means that they can charge high fees to customers in order to have spare or replacement keys made. After all, the process requires specialized equipment that some locksmiths do not have.
Luckily for you…
We are Right on Time Locksmith and our licensed automotive locksmith technicians have just the tools to make laser-cut keys and at a lower price than the dealerships. Plus our mobile units come you to you 24/7 so you can avoid that pesky trick to the dealer.
Advantages Of Laser Cut Keys
There are several advantages of having a laser cut key. First of all, because it is harder to duplicate, there is less of a chance of your car being stolen. This results in lower car insurance premiums. Additionally, because the key is precision carved, you do not have to worry about a cut key not working well. A laser cut car key is precise to a much smaller degree than anything you could get from an automotive locksmith in the past.
And that's not all!
It is not just the grooves of the key itself. These keys also have a special transponder that matches to one in your car. This means that a metal key alone will not be enough to operate the vehicle.
Think about it like this:
Your bank likely requires a password and a security question when you sign in online to make sure someone did not just steal your password. A laser-cut key also features this two-factor authentication.
How Right On Time Locksmith Can Help
Unfortunately, lost keys still happen, and not every 24-hour locksmith is able to help. That's where Right on Time Locksmith comes in.
24-Hour Service
We are a 24-hour locksmith that can help no matter what your needs are. Locked out of your car at 5 in the morning when you need to get to work? We can help! After all, we would not call ourselves an emergency locksmith if we were not there at all times of the day.
Mobile Locksmithing
We are one of the only mobile locksmiths around with the ability to replace or duplicate laser cut keys. Because we are mobile, we can get to you on your terms, without requiring you to get a ride to the dealership. Better yet, we service all cars, foreign and domestic, and are completely mobile.
Whether you need a laser cut car key replacement immediately or just want a spare to keep around, Right on Time Locksmith can use our years of experience and high standards of customer service to provide you with the best experience possible