Commercial & Residential Steel Entry Door Installation & Repair Baltimore, MD
The Benefits Of Steel/metal Door Installation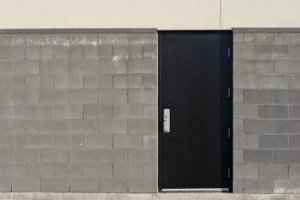 As a construction material, steel offers several distinct benefits. Doors composed of steel hold utility in many situations. Just consider a few of the positive aspects of well-designed steel doors:
Today, manufacturers create steel doors in an impressive array of sizes, styles, and colors
These attractive doors enhance residential and business security
Steel, a tough material, resists kicking and other forced entry attempts much better than wood
Steel also usually resists fire more effectively than wood
Steel doors sometimes prove surprisingly affordable!
About Right On Time Locksmith in Baltimore & Door Replacement 
As a full-service locksmith, safe, and door installation firm, we offer a variety of commercial doors. Call us whenever you require door services in Maryland and DC (We even help install residential doors!).
Why Customers Choose Us
Why do customers select us as their preferred local locksmith and emergency door services provider? We think these advantages play an important role in their decision:
We offer a full spectrum of locksmithing and door contracting skills
Obtain service from a fully licensed, bonded, and insured company
Our locksmiths possess familiarity with the local area
We maintain availability around-the-clock on a 24/7 basis
You'll appreciate our fast response times
We furnish a solid 12-month warranty on new locks
Our competitive upfront pricing assists customers
We offer discounts for the military, seniors, and crime victims
Popular Steel Doors & Metal Doors That are Energy Efficient in MD
Well-designed steel doors today appeal to both businesses and many homeowners. We carry, install and help maintain a great selection of these products! Just consider some places which benefit from steel door installation:
Houses, Apartment Buildings, Condos, and Assisted Living Centers
Retail Establishments
Schools
Military Facilities
Manufacturing Plants And Other Industrial Facilities
Hospitals
Police Agencies
Our Exterior Steel Door Installation & Repair Services
Contact Right On Time Locksmith for fast, professional assistance when you require steel doors. We offer a full array of steel door services:
A great selection of attractive options to choose from
Professional installation
Complete repair services
Assistance troubleshooting problems
Steel door matching and replacement services
A full range of lock services
Panic bar installation for single or double steel doors and more!
Further Information
To obtain assistance with any lock-related emergency requiring the skills of a trained locksmith or to locate a complete range of door services, call Right On Time Locksmith. We value your business. You can depend on us the next time your need to locate high-quality doors or steel door services!
We offer 15% discounts for Military, Seniors, and Crime Victims.
We accept all major credit cards.
Q: What services do you offer for steel door installation and repair?
A: Our team of local experts offers installation, repair, and replacement services for steel doors, as well as patio doors, glass patio doors, and sliding patio doors, for residential and commercial properties in the Baltimore metro area.
Q: How do I schedule an appointment for steel doors installation or repair?
A: You can easily schedule an appointment by contacting us through our website or by giving us a call at 410-000-0000. We offer a free estimate for all our services, including installing and repairing steel doors.
Q: What are the benefits of installing steel doors?
A: Steel doors offer durability, secure protection, and energy efficiency to your home or business without sacrificing curb appeal. They are also fire-rated and can provide thermal insulation.
Q: Can you install custom steel doors?
A: Yes, we offer installation services for custom steel doors according to your specific specification.
Q: Do you offer steel door replacement services?
A: Yes, we can replace your old steel door with a new one that fits your needs and style.
Q: What styles of steel doors do you offer?
A: We offer various door styles, including the front entry, interior and exterior, residential, commercial, and fire-rated hollow metal doors.
Q: What is the process for steel door installation?
A: First, we will schedule a consultation with you to discuss your needs and preferences. Then, we will take measurements and provide you with a free estimate. After that, we will install the frame and the door, insulate it for thermal and energy efficiency, and ensure it is properly secured with hinges and locks.
Q: How long does the steel door installation process take?
A: The installation process can vary depending on the size and specifications of the door but typically takes about 2-3 hours.
Q: What materials are used for steel door installation?
A: Our team uses high-quality steel and vinyl materials to combine durability and energy efficiency in your new steel door.
Q: Why should I choose Right On Time Locksmith for steel door installation and repair?
A: We are a reliable and experienced door company with a team of local experts dedicated to providing exceptional customer service and quality workmanship for all of our services. Contact us for a free estimate and experience the difference between working with the best.