Call Us 24/7 When An Accidental Home Lockout Occurs!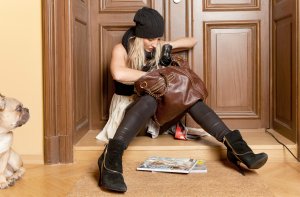 Have you ever accidentally become locked out of your own home? This situation occurs more often than many people realize.
But there is hope!
You can rely upon the skilled 24-hour residential locksmith services of Right On Time Locksmith to help solve home lockout situations.
Homeowners can call us at any hour of the day or night for assistance. We offer comprehensive locksmith services in Maryland and DC. Our expert technicians perform a wide array of residential, commercial, automotive and emergency assignments for customers.
A Well-Qualified Locksmith
When it comes to lock and key issues, you can depend on us to arrive at your location quickly. We work as a mobile locksmith, so we'll bring along specialized tools and supplies. You won't need to wait for us to retrieve basic equipment from another location before we can tackle lock-related problems.
We offer the skills of honest, fully licensed, bonded and insured technicians. Ask us to perform any of these vital emergency locksmith services:
Resolving an accidental office, auto or home lockout
Checking locks for damage immediately after a break-in
Extracting a broken key from a lock correctly
Producing duplicate keys for property owners on short notice, and more!
We Stand Behind Our Work!
We offer a full 12-month warranty on new locks. You can count on our firm to provide skilled, capable locksmithing assistance.
Our company takes pride in offering dependable service. Consider choosing us as your local locksmith in this community. We supply these advantages:
Comprehensive locksmithing skills
Around-the-clock availability
Fast response times
Talented, friendly locksmiths
Licensed, bonded and insured services
Fair upfront pricing policies
A solid work ethic
15% discounts for seniors, members of the military and crime victims
Regaining Access To Your Home
Although no one enjoys becoming accidentally locked out of a residence, this common situation does demonstrate the security capabilities of locking mechanisms! Whether you protect your residence with an old-fashioned spring lock, a conventional pin-and-tumbler system or a new model of digital lock, you can trust us to help you regain access to your premises.
We also possess the ability to duplicate keys for homeowners. We can generate extra house keys following an accidental lockout, for instance.
Why You Should Call A Professional Locksmith To Solve An Accidental Lockout
Occasionally customers wonder why they should consider calling a professional locksmith to solve an accidental home lockout.
Why not simply attempt to break into your home by picking the lock instead?
Unfortunately, homeowners who attempt to pick their own locks sometimes inadvertently cause damage to sensitive lock mechanisms. This situation may prove expensive if you must completely replace a broken lock as a result! As locksmiths, we carry specialized tools enabling us to open locks without causing damage. Most residential locks today still use a version of a pin-and-tumbler system invented by the great locksmith and inventor Linus Yale, Sr. in 1848.
Asking Right On Time Locksmith to open your front door correctly during a lockout provides a cost-effective way to regain entry to your residence.
Bottom line:
Request home lockout assistance from us and get back inside quickly!