Obtain Complete Fire Rated Door Services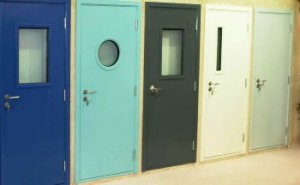 Many businesses and institutions today have discovered the life-saving capabilities of high-quality fire rated doors. Ask Right On Time Locksmith to assist you by installing, repairing and maintaining these important building fixtures!
Fire and building codes frequently specify the requirements for construction materials in a variety of commercial structures. You can rely on our company to help you comply with these standards in Maryland and the District of Columbia.
Who Are We?
We are Right On Time Locksmith. Our full-service locksmith, door and safe company serves business customers and homeowners throughout Maryland and the District of Columbia. We offer the specialized skills of fully licensed, insured and bonded local locksmiths and door installation and repair experts.
You can rely on us to undertake emergency, automotive, residential and commercial projects requiring the talents of an honest locksmith company. Our technicians furnish a complete 24-hour mobile service. We install and repair locks, help install commercial security systems and supply and service a variety of specialized doors.
Why You Need Fire Rated Doors
For example, we perform a full range of essential fire rated door services, including skilled repairs and installation. Local enterprises call upon us to install and repair commercial doors, and to supply comprehensive emergency door services. Call us if a door in your facility malfunctions or fails to lock or unlock properly.
If a flood, a fire, a severe storm or some other disaster causes damage to your building, ask us to help repair malfunctioning doors. We also install commercial security systems, access control systems, and keyless entry systems. We install and service a variety of lock mechanisms, including sophisticated digital locks.
Obtain Fast, Well-Qualified Locksmith Assistance
Our customers depend on us for a variety of reasons. Just consider some of the advantages we offer:
Around-the-clock availability
Fast response times
The skills of qualified lock and door repair technicians on demand
An ironclad 12-month warranty on all new locks
Fire rated door installation and repair services
Panic bar installation and repair services
Attractive discounts for seniors, military personnel and crime victims
Competitive upfront pricing
Fire Rated Doors Help Save Lives
Door technology has undergone significant improvements during recent decades. In this century, manufacturers have developed a variety of fire rated building products, including doors capable of helping to retard the spread of fires through buildings. These fixtures often rely upon specialized types of construction materials, including steel, specialized insulation components and reinforced door window glass.
Fire rated doors help save lives in some situations. For example, fire-resistant doors carrying specific fire ratings protect building occupants by allowing more time for evacuations. They also enable companies to keep highly flammable inventories securely stored in areas that have been sequestered away from other parts of a facility. If a fire breaks out in one section of a building, fire resistant doors help restrict the spread of the conflagration to other locations. The use of building materials with known fire ratings may assist fire departments because managers can better assess the likely speed of spreading flames. This capability may help safeguard firefighters as they work.
Contact Us
Call Right On Time Locksmith to obtain a full spectrum of automotive, residential, commercial and emergency locksmith assistance. We also provide qualified fire rated door services in Maryland and DC.